Overview
My Role - Solo Project
Software Used - Adobe XD, Adobe Photoshop
Project Summary
Haven is a concept sneaker app I created. Haven offers multiple services for users like buying sneakers, selling sneakers, a release calendar, news, and a forum. Haven was created to be the all-in-one app for every person that loves sneakers. If you want to know anything upcoming in the sneaker world or looking to buy a new pair, Haven is the app you need.
Target Audience
Primary: Millennials (1981-1996) that are sneakerheads and have the ability to buy sneakers as a hobby.
Secondary: Gen Zers (1996-2010) that are sneakerheads and have money to purchase their favorite sneakers.
Challenge
Design an app that has all the features the average sneakerhead wants.
My Design Process
Research > Synthesis > UX Design > UI Design
Research: Complete competitor analysis and user research.
Synthesis: Take the information gathered from the research stage. Then create user personas, user flows, and the information architecture.
UX Design: Create wireframes, prototypes, and conduct usability tests.
UI Design: Make it look good.
Competitor Analysis and User Research
There are multiple different apps based on sneakers. There are the company apps like SNKRS from Nike and aftermarket sneaker apps like StockX, Grailed, and GOAT. SNKRS is the app where all the new Nike releases are available to buy. StockX and GOAT are aftermarket apps where you can purchase any pair of sneakers, as long as someone else is selling them. StockX and GOAT have authenticity guaranteed while Grailed does not. Users don't have to worry about fakes from SNKRS since it's directly from Nike.
This market is not going anywhere anytime soon either, there are lines that are hundreds of people deep for a new release (Source). eBay has also entered the scene with its new authenticity guarantee over some sneakers (Source). The demand is so high that eBay has struggled to keep up with it.
The main demographics for sneakers are Millennials and Gen Zers. Women also make up 40% of the market but 90% of the time they are focused on high-end products (Source).
Main Competitors
StockX

GOAT

Grailed

eBay

SNKRS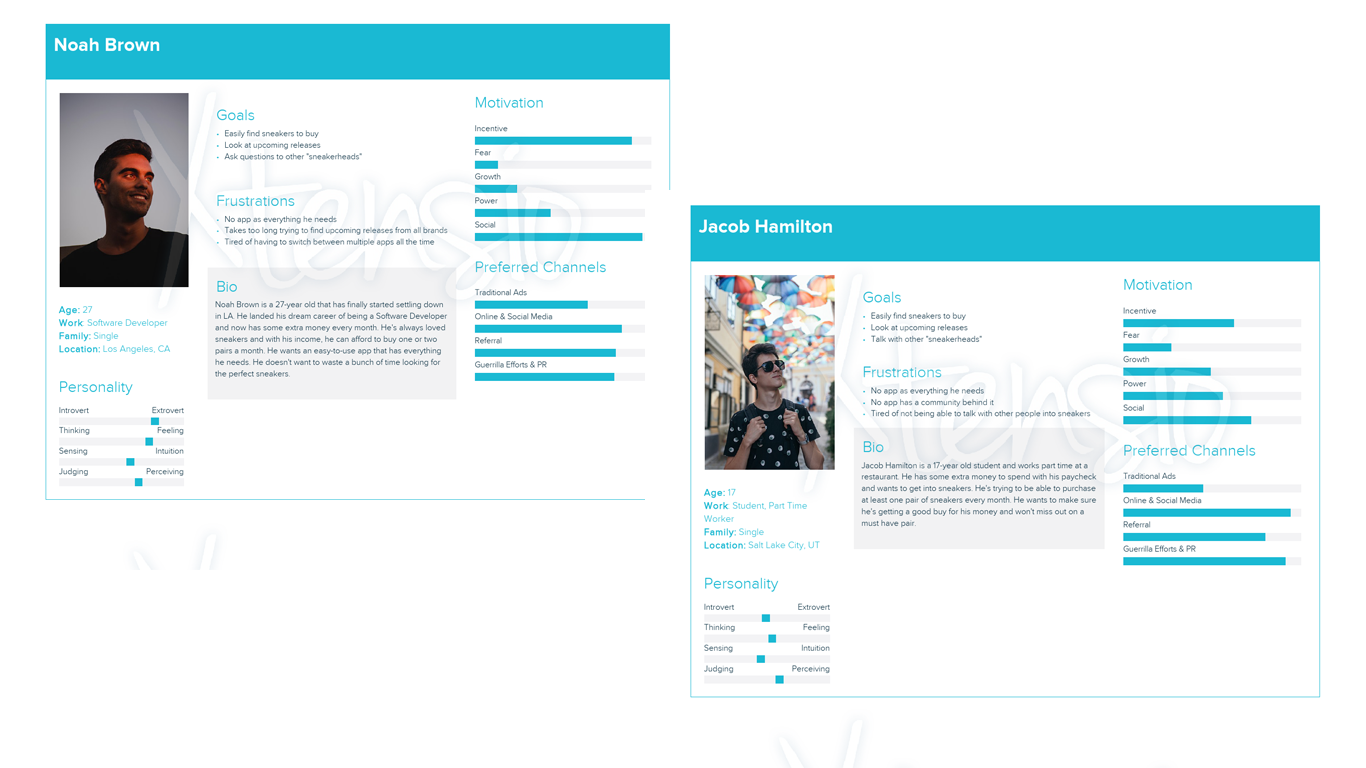 User Personas
Based on the research, I have created two user personas to represent the two main target audiences.
The first persona is Noah Brown. He is a 27-year-old that has finally started settling down in LA. He landed his dream career of being a software developer and now has some extra money every month. He's always loved sneakers and with his income, he can afford to buy one or two pairs a month. He wants an easy-to-use app that has everything he needs. He doesn't want to waste a bunch of time looking for the perfect sneakers.
The second persona is Jacob Hamilton. He is a 17-year-old student and part-time worker at a restaurant. He has some extra money to spend with his paycheck and wants to get into sneakers. He's trying to be able to purchase at least one pair of sneakers every month. He wants to make sure he's getting a good buy for his money and won't miss out on a must-have pair.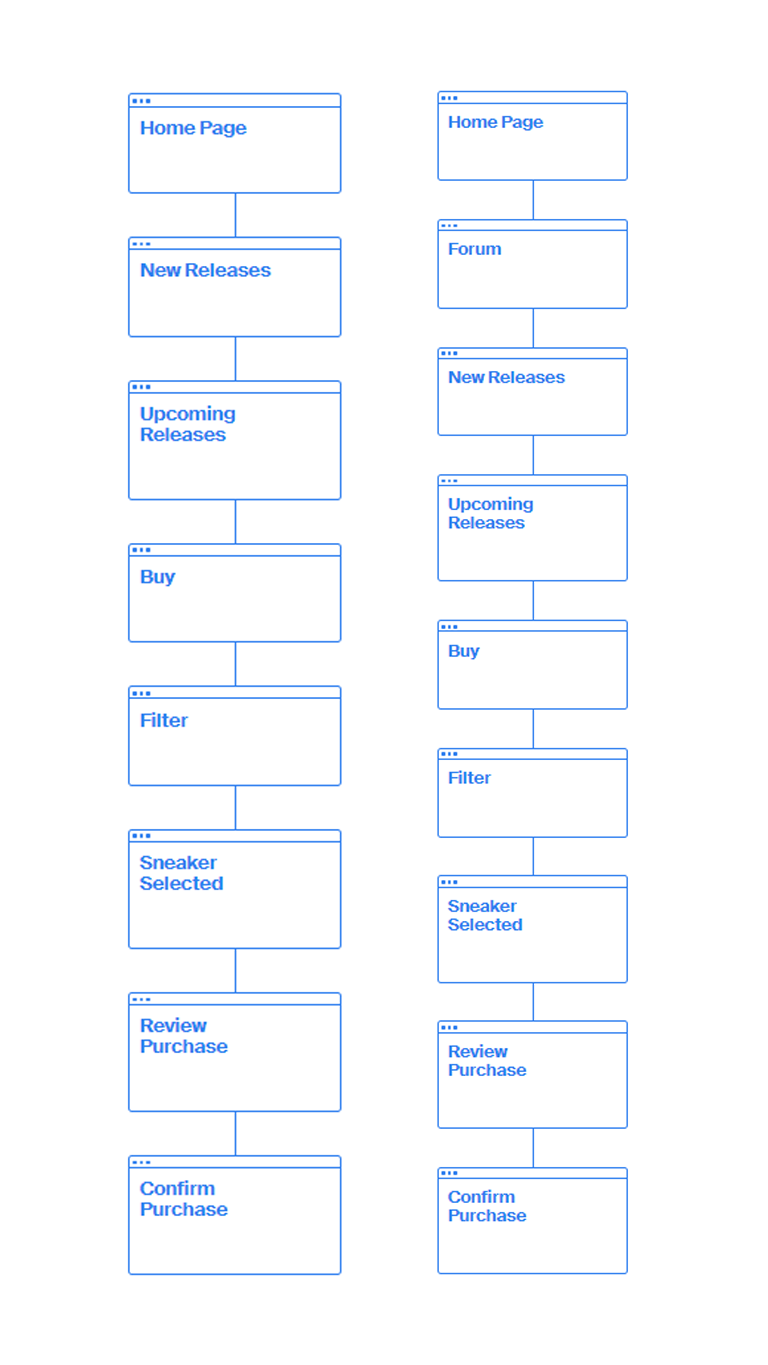 User Flow
Left - Noah Brown
Right - Jacob Hamilton
Mapped out both users' steps to achieve their goals to see how simple I could make it. I determined the steps based on my research and competitor analysis. The user flow helped determine the information architecture of the website so each step had a specific purpose.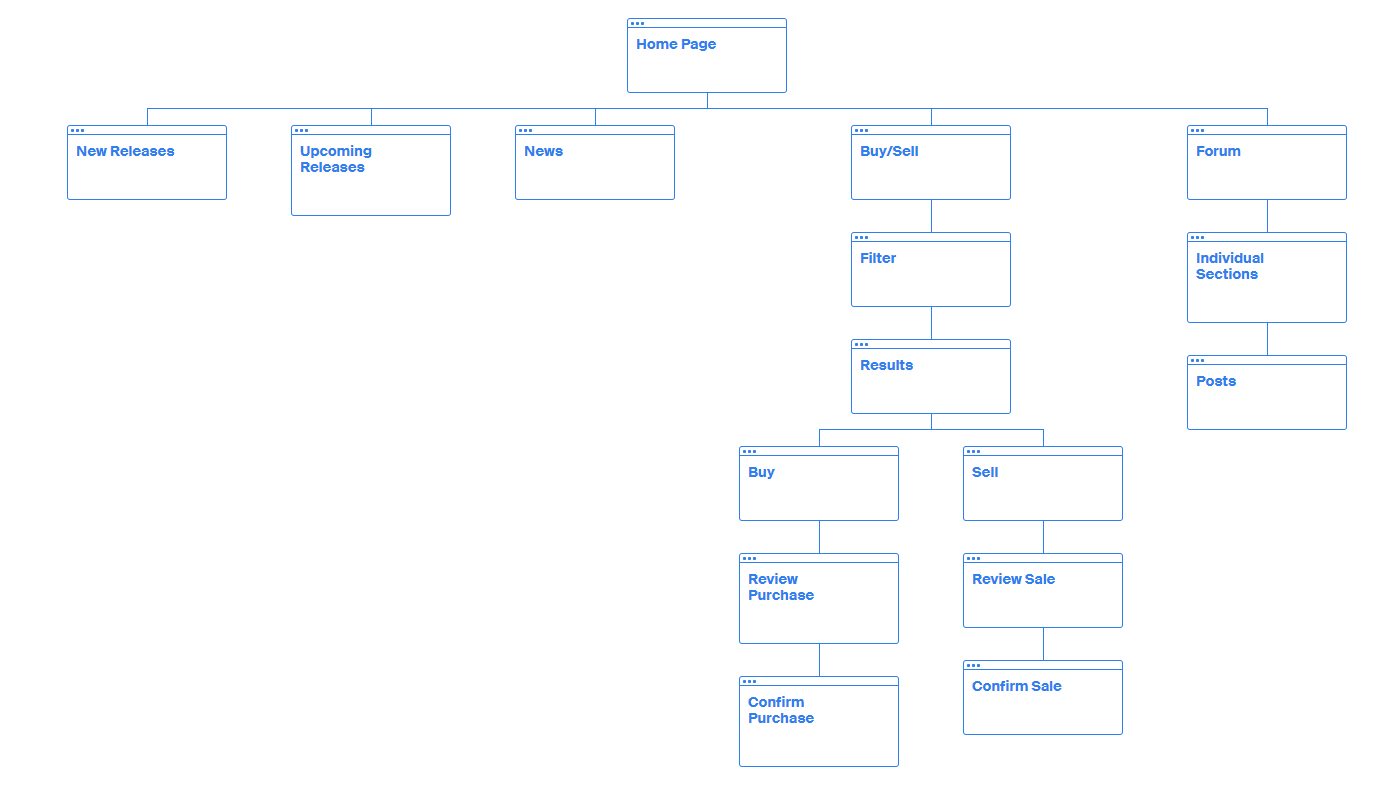 Information Architecture (Site Map)
After mapping out the user flows and identifying what is on the app, I created the information architecture. Where the user can get to their end goal with the least amount of clicks possible.
Wireframes
Designs were made in Adobe XD. I designed these wireframes with the information I gathered in the research and synthesis stages of this project. Making sure that the most important information was shown. They are low-fidelity wireframes to show the basic layout of the app.
Which Was
Find new releases

Find upcoming releases

Sneaker News

A forum for the users to be able to communicate

Be able to buy and sell sneakers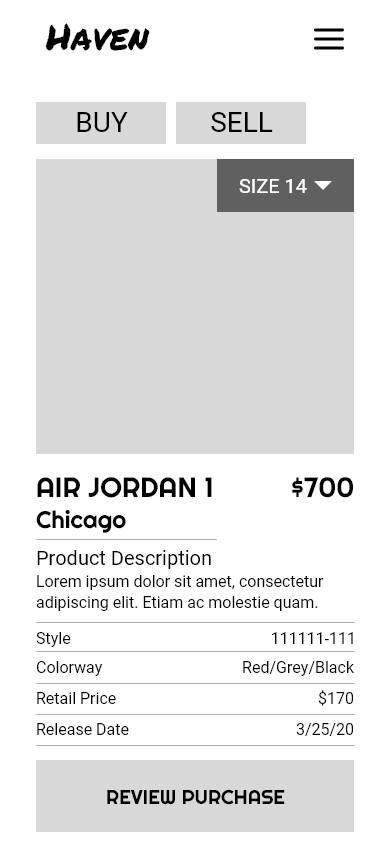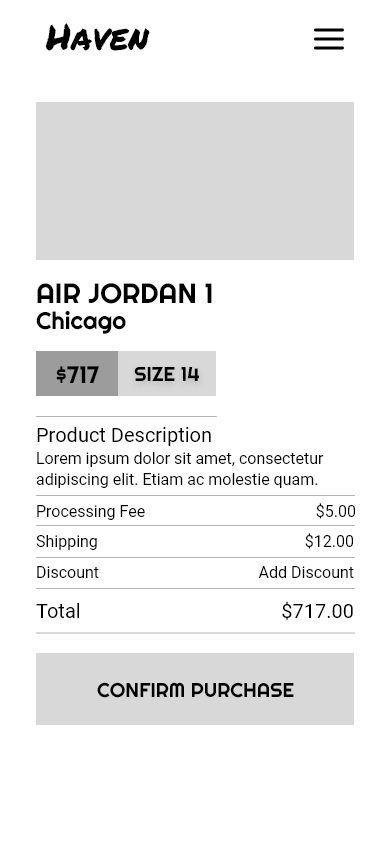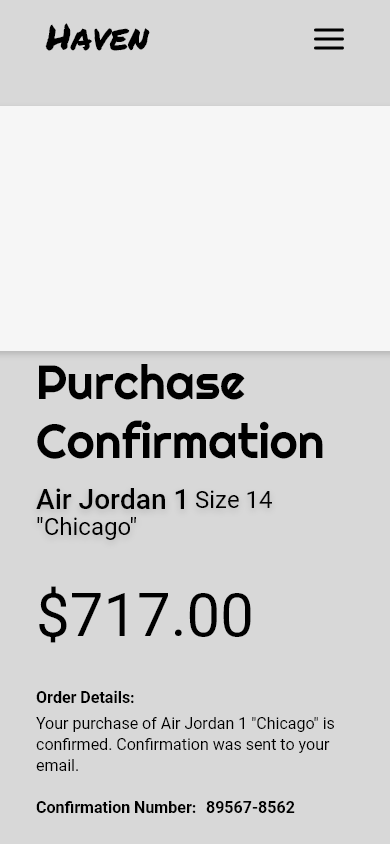 Changes
After designing the wireframes I went back through to see what could be improved upon. I decided that the navigation bar only needed three icons instead of four. The search icon can also be used to buy and sell sneakers. The forum icon lets users quickly switch to the forum without having to use the menu. The profile button is used so people can look at their previous orders, forum posts, saved sneakers, and more. The other change I made was changing the "bought" and "sold" pages' backgrounds to white instead of a different color.