Michael Doss
User Experience Designer
Nature Awaits
User Experience Design
Overview
My Role - User Experience Researcher, User Experience Designer
Software Used - Adobe XD, Adobe Photoshop
Project Summary
Nature Awaits is a concept business I created. Nature Awaits is a travel agency located in the United States. It has trips all throughout the country from Hawaii, Alaska, California, Colorado, and more. It's not like any other travel agency where you get sold generic tourist trips, these are unique trips designed to give you the ultimate experience. They are created by the people who know best, the locals. Nature Awaits' mission is to create life-changing experiences for people, by nature.
Target Audience
Primary: Young adults that want to book a vacation focused on nature.
Secondary: Adults that have retired and looking for something fun to do in their free time.
My Design Process
Research > Synthesis > UX Design > UI Design
Research: Complete a competitor analysis and user research.
Synthesis: Take the information gathered from the research stage. Then create user personas, user flows, and the information architecture.
UX Design: Create wireframes, prototypes, and conduct usability tests.
UI Design: Make it look good.
Competitor Analysis and User Research

User Research
In my research, I found that millennials use travel agencies more than any other generation (Vox). 33% of millennials plan to use a travel agency for their next trip (Travel & Leisure). 18% of Gen X are planning to use a travel agency for their next trip as well (Travel & Leisure). Gen Z is growing up as a globally aware generation, conscious of their own responsibility towards the environment and society. Climate change was cited by more than half of Gen Z in Germany, the U.K., and the U.S. as the issue most important to them (Travel Agent Central​).
Competitor Analysis
There are numerous travel agencies around the world. Wherever you go, there'll be a travel agency there ready to help. There are a few travel agencies focused on nature but not nearly as much as ones that are built around resorts and cruises.
Three Main Competitors:
Natural Habitat Adventures & World Wildlife Fund​

Wilderness Travel​

Nature Travel Specialists
What Users Want
Be able to book their trip easily

Easy to navigate

Reviews and photos from real customers

In-depth information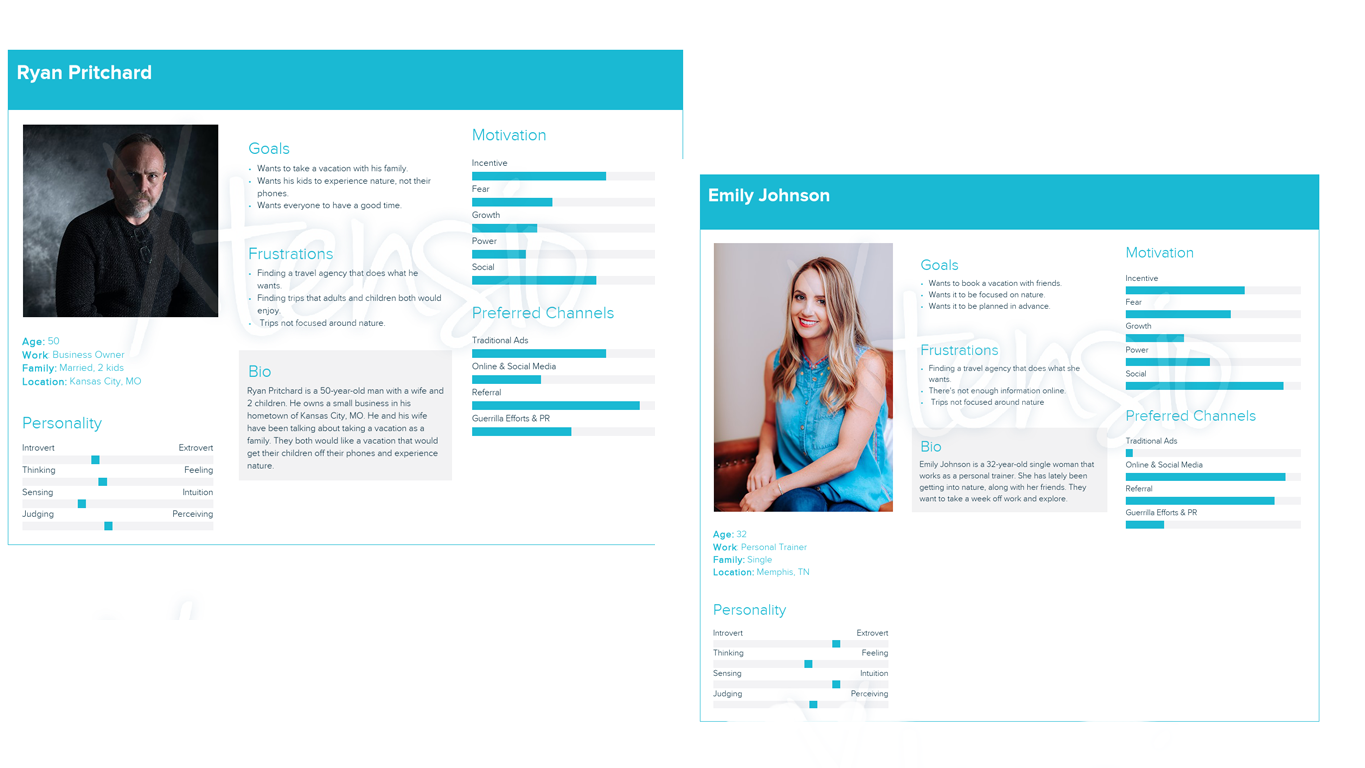 User Personas
Based on the research and survey, I have created two user personas to represent the two main target audiences.
Emily Johnson is a 32-year-old single woman that works as a personal trainer. She has lately been getting into nature, along with her friends. They want to take a week off work and explore.
Ryan Pritchard is a 50-year-old man with a wife and 2 children. He owns a small business in his hometown of Kansas City, MO. He and his wife have been talking about taking a vacation as a family. They both would like a vacation that would get their children off their phones and experience nature.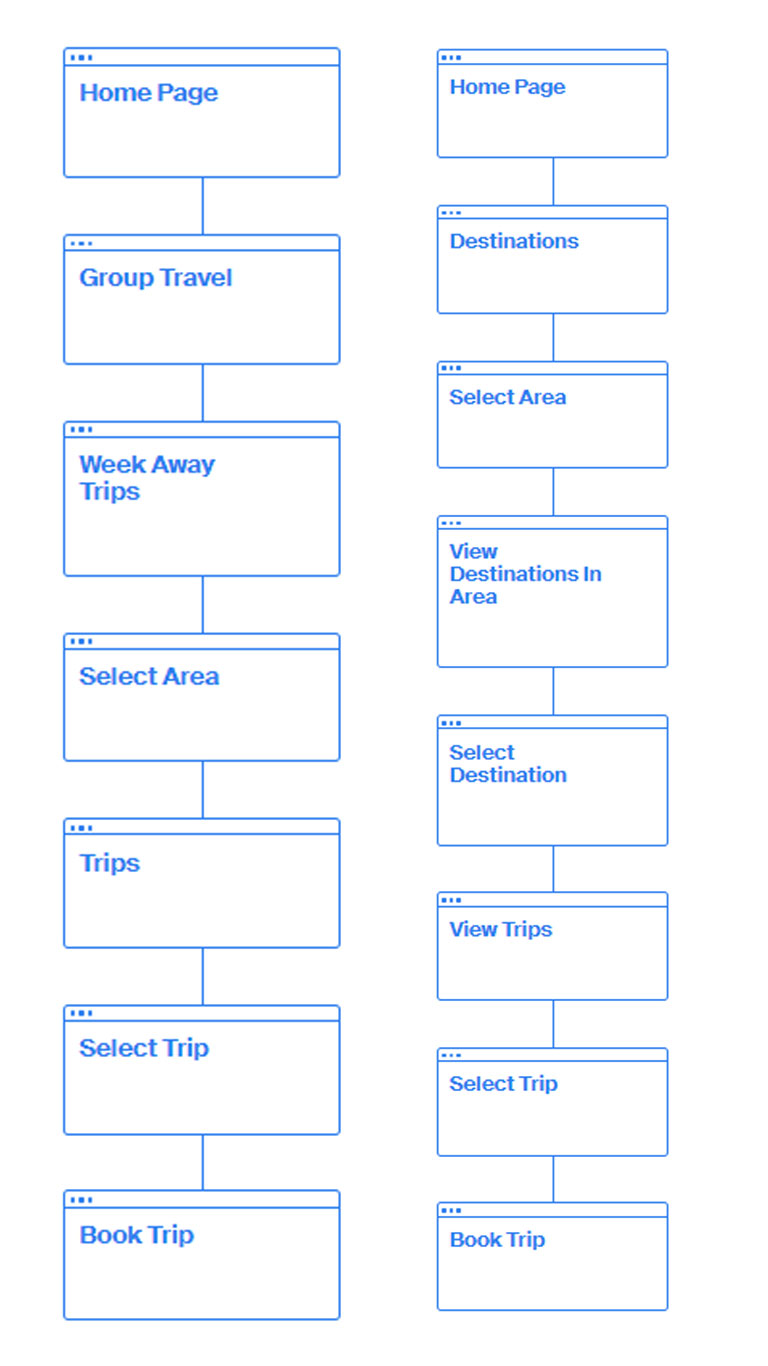 User Flow
Left - Emily Johnson
Right - Ryan Pritchard
Mapped out both users' steps to achieve their goal to see how simple I could make it. I determined the steps based on my research and competitor analysis. The user flow helped determine the information architecture of the website so each step had a specific purpose.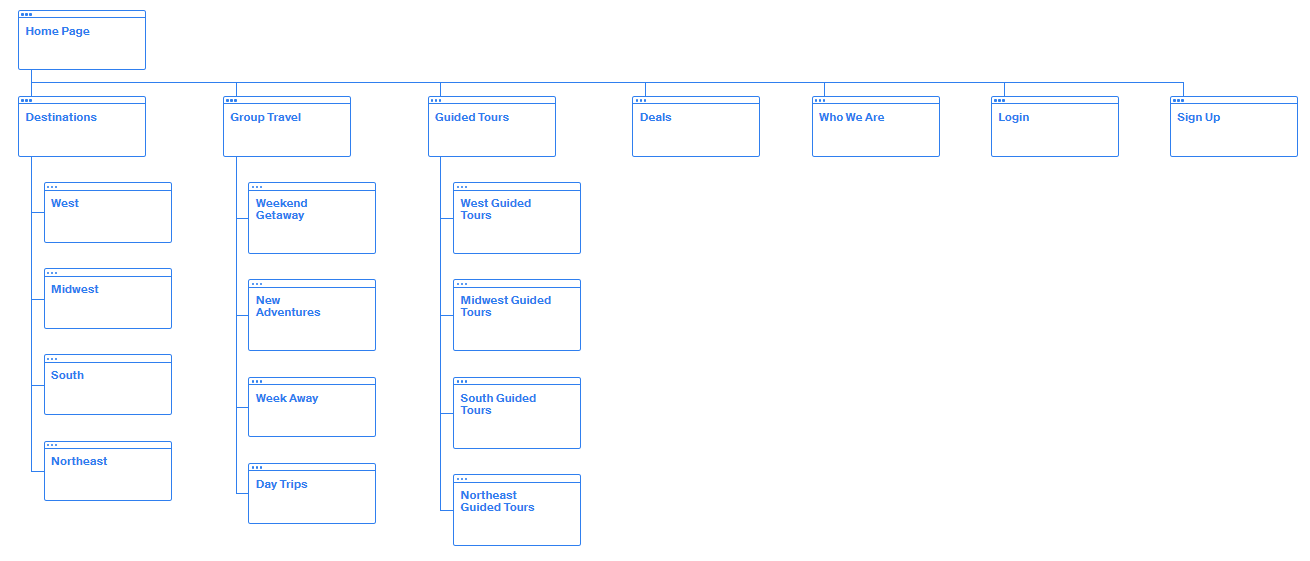 Information Architecture (Site Map)
After mapping out the user flows and identifying what is on the site, I created the information architecture. Where the user can get to their end goal with the least amount of clicks as possible.
Wireframes
Designs were made in Adobe XD. I designed these wireframes with the information I gathered in the research and synthesis stages of this project. Making sure that the most important information was shown. They are low-fidelity wireframes to show the basic layout of the website.