Michael Doss
User Experience Designer
Roomie
User Experience Design
Overview
My Role - User Experience Researcher, User Experience Designer
Software Used - Adobe XD
Duration - 48 Hours
Project Summary
Roomie is a concept website I created in my free time for my portfolio. Roomie is a roommate matching service that also provides the ability to find and list tenants and entire places to rent. For example, transferring to a college and not knowing anybody makes it extremely difficult to find roommates. I wanted to create a service where anybody could find what they need for housing. Whether that be finding a roommate, a room, an entire place, or any other need someone may have.
Target Audience
Primary: Young Adults (18-29) that need to find a room or roommate. Whether it be for college or after college.
Secondary: Landlords that need to rent out an entire place. Tenants that are looking for an entire place.
Challenge
Create a service that is easy to use that allows people to easily find roommates, rooms, tenants, and entire places to rent.
My Design Process
Research > Synthesis > UX Design > UI Design
Research: Complete a competitor analysis and user research.
Synthesis: Take the information gathered from the research stage. Then create user personas, user flows, and the information architecture.
UX Design: Create wireframes, prototypes, and conduct usability tests.
UI Design: Make it look good.
Competitor Analysis and User Research

There are multiple competitors offering these services. Most of them have little things that others don't. Roomster.com has a map where you can see the location of the place. Many of them have spam accounts that ruin the users' experience since they can't be sure who is real or not. Most services also have paid versions that you must pay for if you truly want to use the service.
What Users Want
Links to individual's social media accounts

Easy to navigate

Map showing where each place is

More in-depth information on the person

Free to use
Surveys
After researching I created a survey to gather more information. Specifically to see what are the most important things to the survey takers. I created a 15 questionnaire asking multiple types of questions. I was able to get 8 responses from people online.
Doing so I was reassured that the target audience was young adults and adults. More than half of the people fit into those two categories. The most important factors that were found are that they preferred to have roommates of the same age and sex. Followed those questions with their own noise level, party level, cleanliness, and what they prefer with a roommate. The majority of people are okay with dogs and cats as pets. The data points to that people want the same type of person they are as a roommate.

With these results, I knew that I needed to make sure that the age was listed as one of the first things the user sees. I also created a lifestyle and hobby section so users can get an in-depth look into others to make sure they will be a good match. Listing pets is also important due to allergies and users' preferences.
I have included 7 of the questions below with the responses.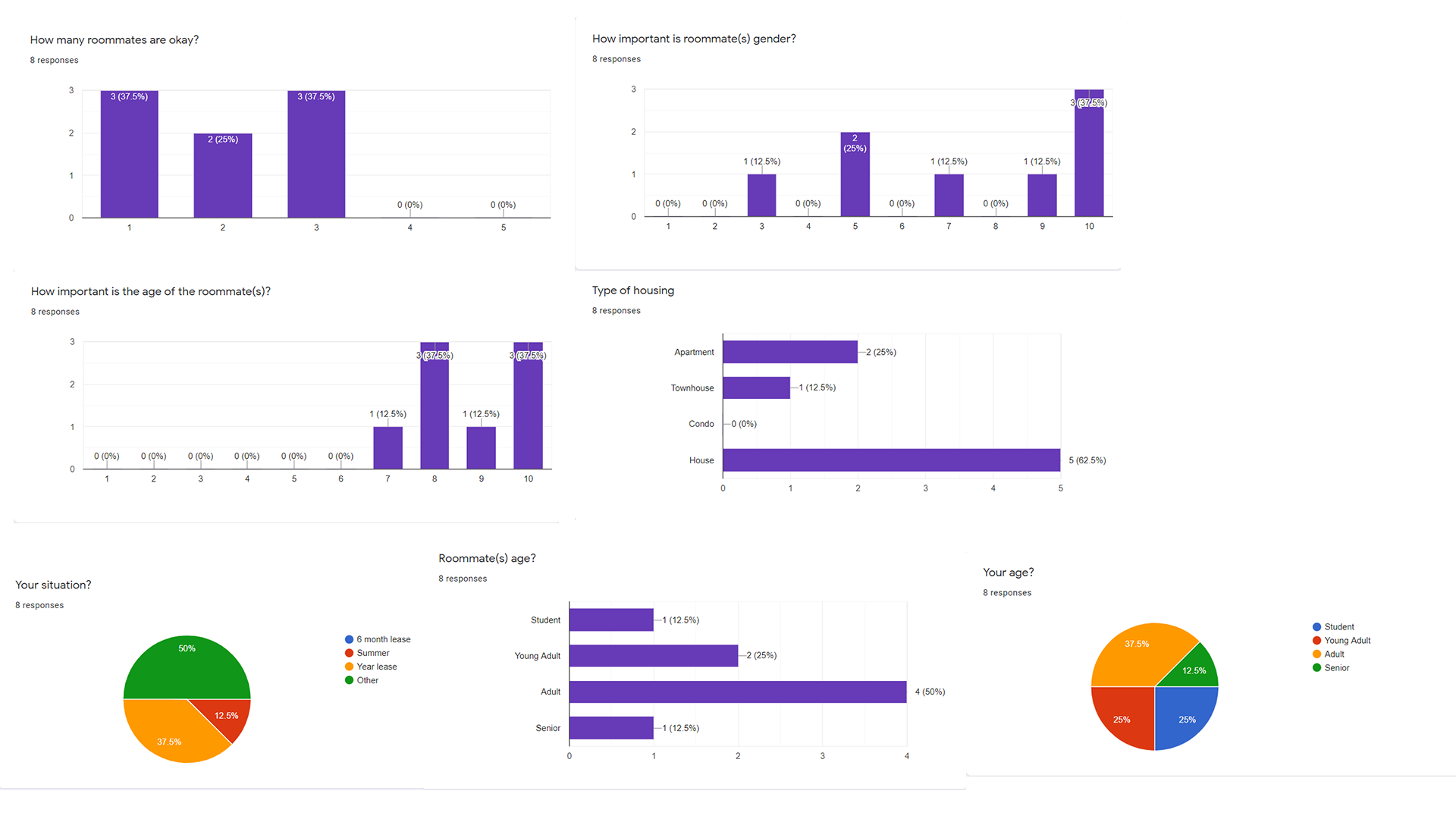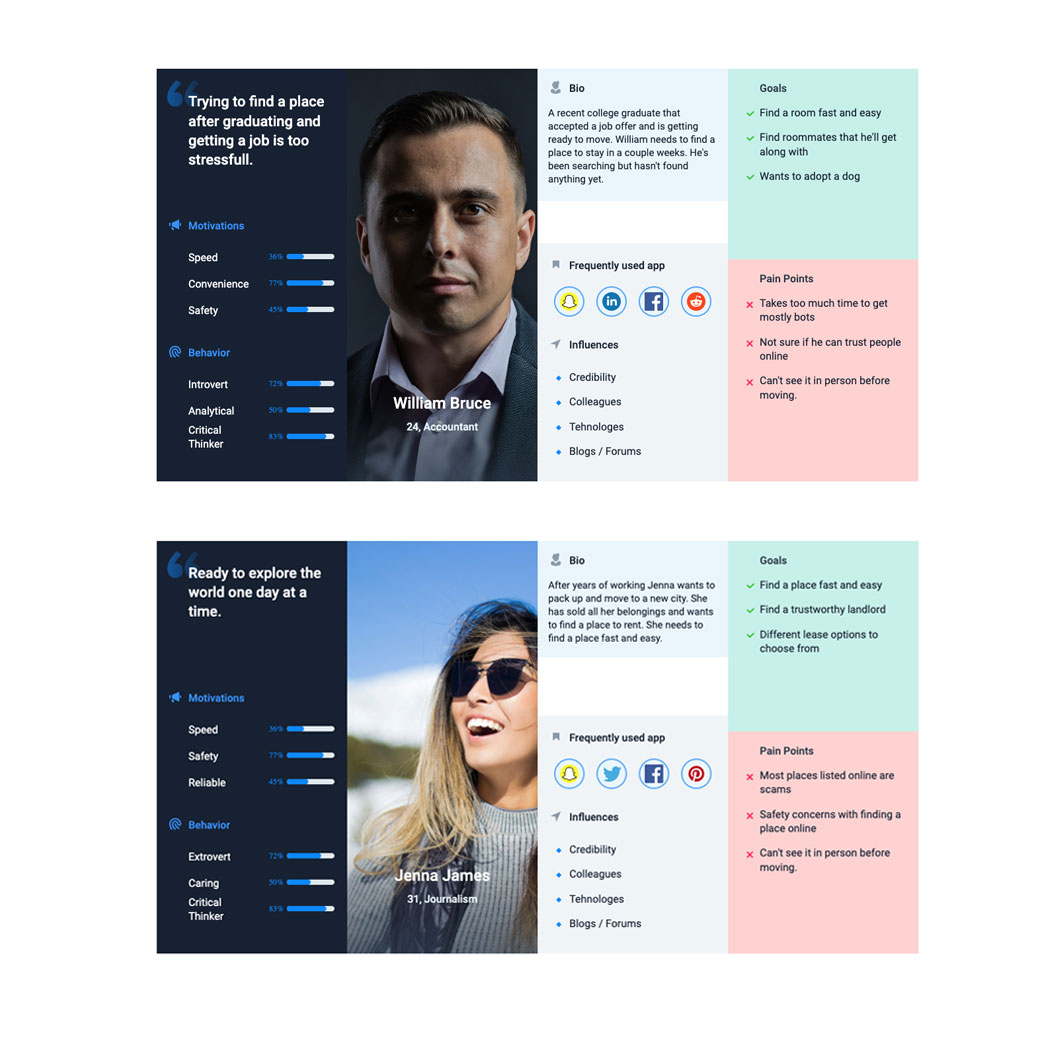 User Personas
Based on the research and survey, I have created two user personas to represent the two main target audiences.
The first persona is William Bruce. A fresh college graduate that is moving across the country needs to find a room fast. He also wants to adopt a dog after waiting years to do so.
The second persona is Jenna James a 31-year-old woman that wants a fresh start. After working for years doing the same thing she wants to mix it up. She has sold everything and wants to find a short lease in a new city.
The Personas affected the design by making sure that it was clear what lease option was available and if pets were allowed. Anytime I had a question about how something should be designed I would look back at my research and personas.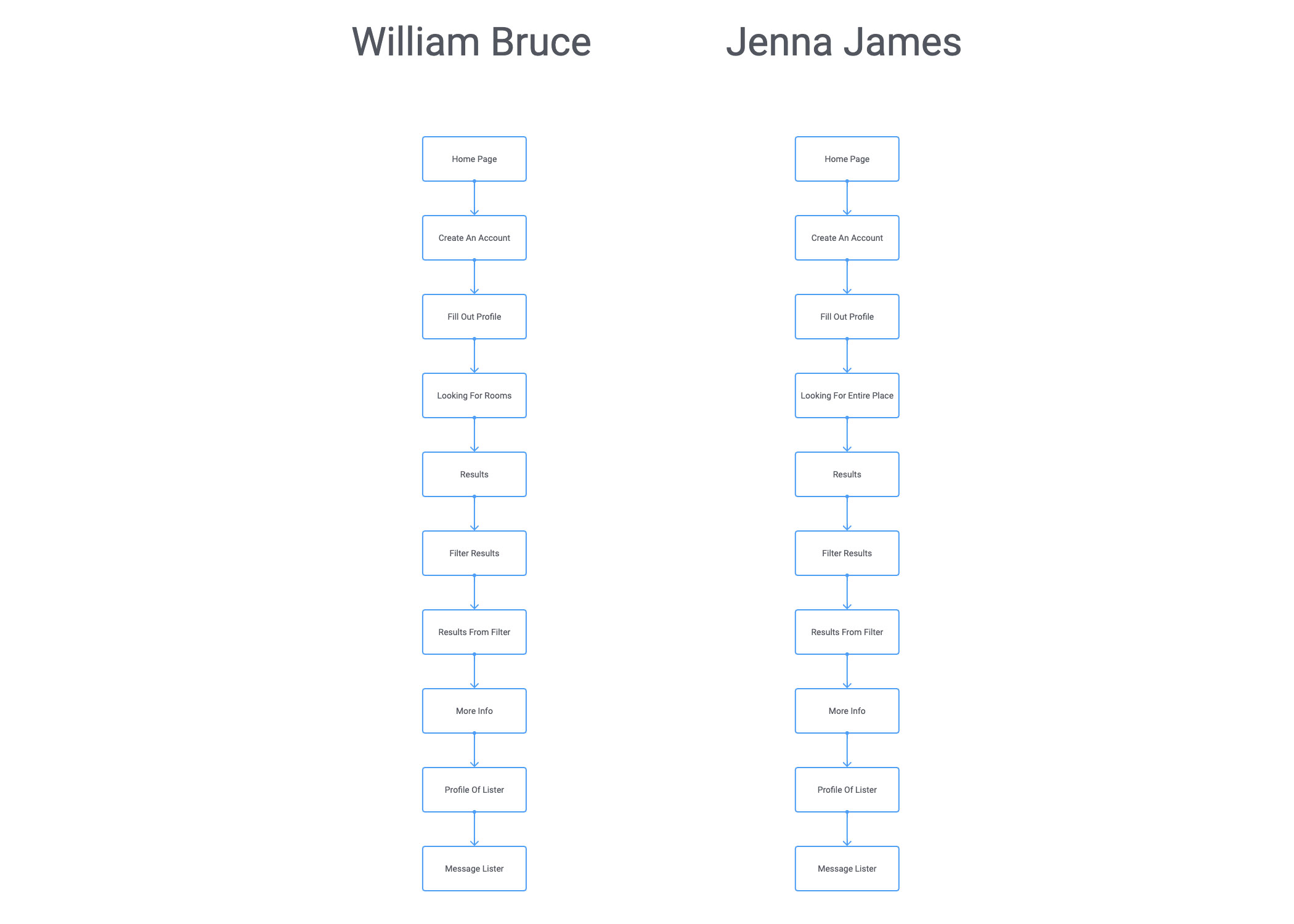 User Flow
Mapped out both users' steps to achieve their goal to see how simple I could make it. I determined the steps based on my research and competitor analysis. The user flow helped determine the information architecture of the website so each step had a specific purpose.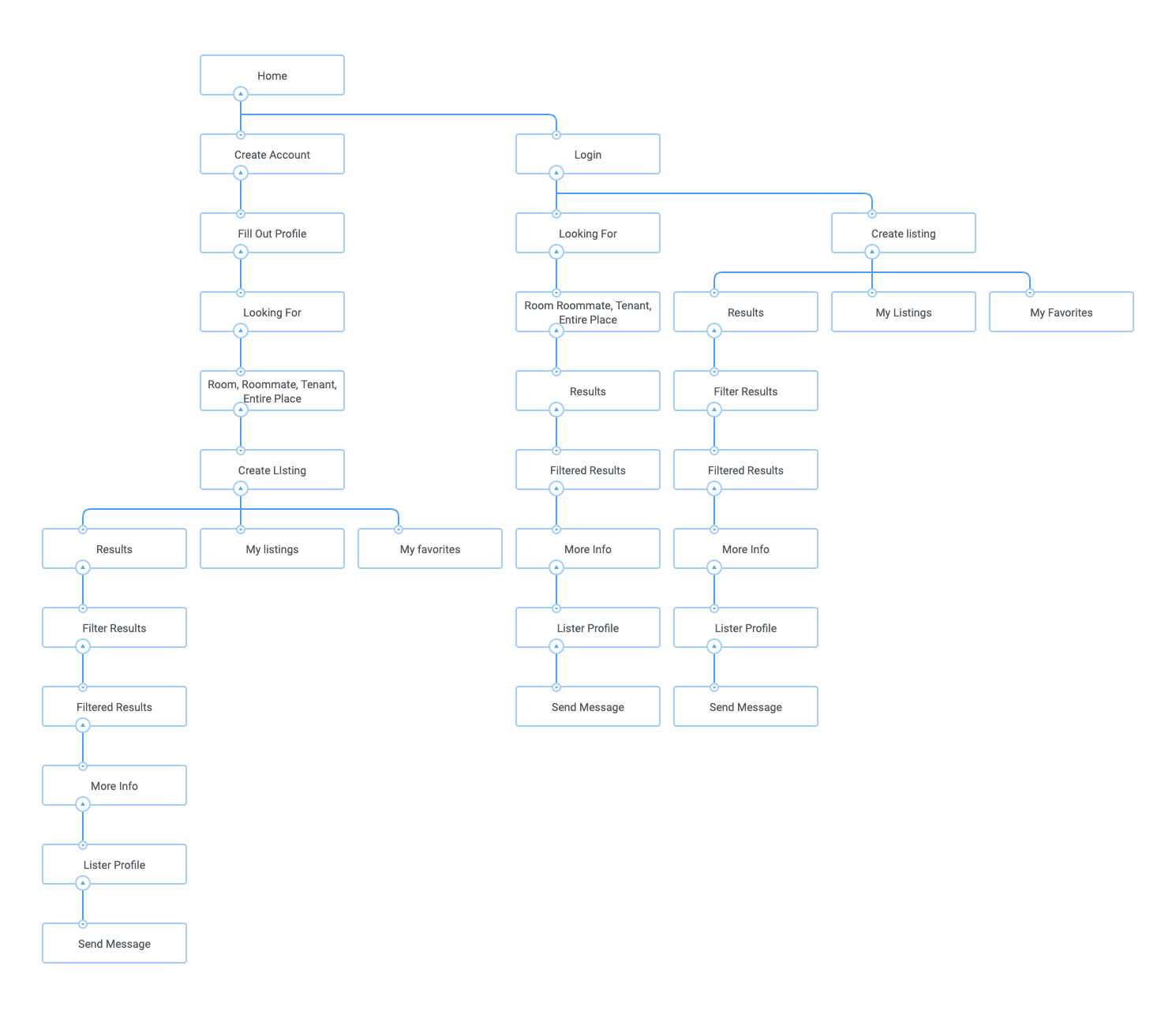 Information Architecture (Site Map)

After mapping out the user flows and identifying what is on the site, I created the information architecture. Where the user can get to their end goal with the least amount of clicks as possible.
Wireframes
Designs were made in Adobe XD. I designed these wireframes with the information I gathered in the research and synthesis stages of this project. Making sure that the most important information was shown. They are low-fidelity wireframes to show the basic layout of the website. Two iterations were made after testing the first one. I found that I could simplify the process more to create a better experience for the users.

Which Was
Easily find roommates

Easily find a room

Easily find a tenant

Easily find an entire place

Links to social media

Be able to message the lister

See user's social media accounts

Be able to filter results to better fit the users' needs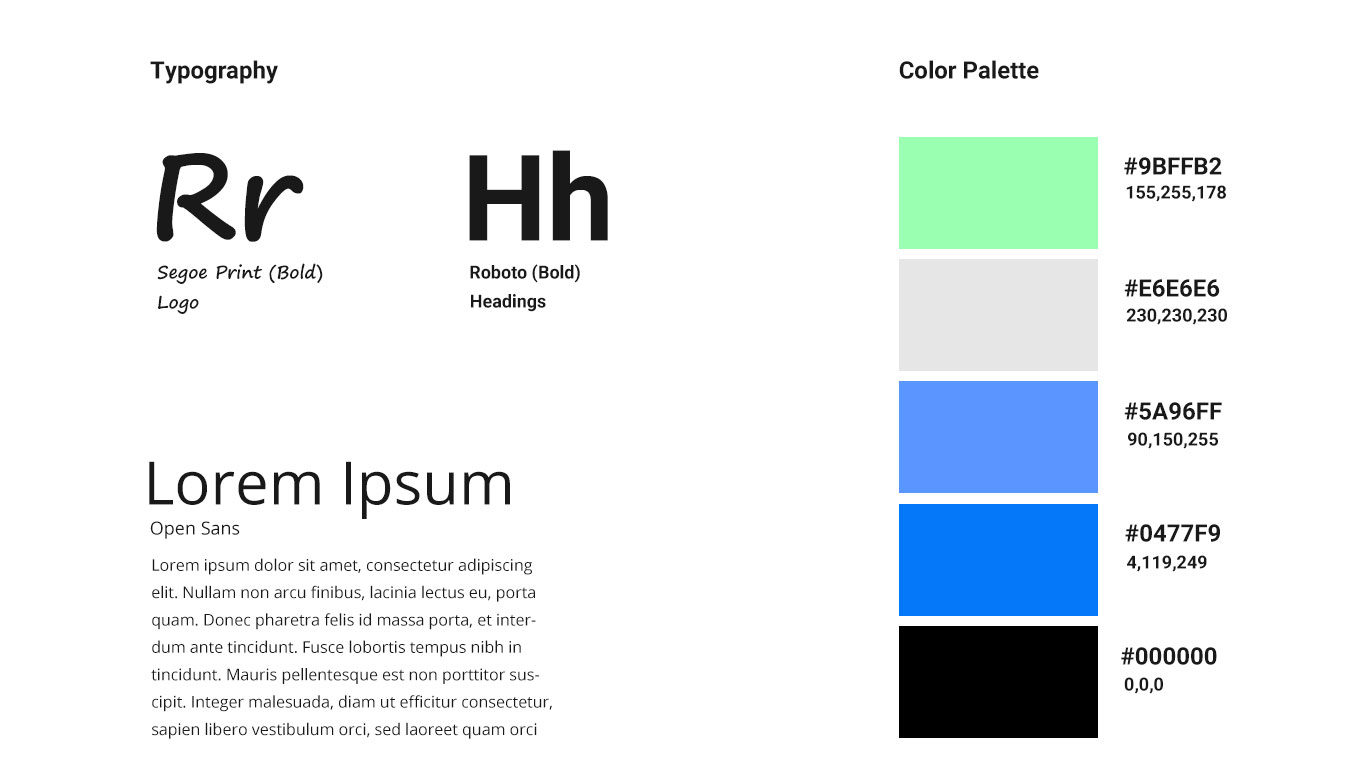 After designing the wireframes I went back through to see what I could improve upon. The first things I saw were the footer and the "looking for" function. Like I said above, I could make it easier for the user by simplifying it. Instead of having "looking for" and "listing for" options, I designed it where it only had "listing for" as an option. No features were lost changing this design.
Now all users have to create a listing for either a room, roommate, tenant, or entire place before being able to proceed. I believe this would make a better experience for users since every person on the site has to take time to create a listing before being able to see their search results. Each user will know that other users are actually looking for something, not trying to waste their time.
Reflection
What I would do next is conduct a usability test to see what works and what could be improved upon. Being able to interview users would also be beneficial to get more data to design the structure of the website. For this case study, I tried to focus on the ability to find rooms, roommates, tenants, and entire places. I would like to go more in-depth with the profiles so the users would get to know the individual better.
The biggest challenge of completing this project was the amount of time I had. I gave myself 72 hours to complete it. Overall, I'm happy with how it turned out and I learned quite a bit working on it.